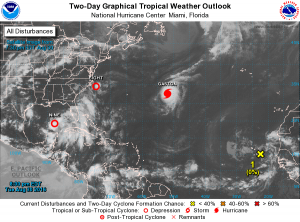 Source: National Hurricane Center
Over the past few weeks, tropical activity in the Atlantic Basin and Gulf of Mexico has been picking up. This primary risk at this time is Tropical Depression 9 in the Gulf of Mexico. It is currently 425 miles south of the Alabama / Florida coastal border and forecast to become a named Tropical Storm overnight. This storm is expected to remain a Tropical Storm as it turns Northeast to intercept central Florida.
Currently there is no threat to the Texas Gulf Coast at this time. However, with Gulf water temperatures in the 80-90's, persons in all states near the Gulf Coast should monitor the situation closely via local media sources or the National Weather Service as conditions could change.
Time to Prepare
It is important to ensure your home and family are prepared for a tropical storm or hurricane throughout the season. Don't wait until it's too late. Our friends at Talon Survival have provided a downloadable Hurricane Preparedness Checklist at no cost to help ensure your family is ready.
Remember, all it takes is one!
Tropical Depression 9: 5-Day Forecast
Source: National Hurricane Center