As we enter into Spring (granted it has felt like Spring for the past couple months) we have another threat of Severe for Southeast Texas this afternoon. Here the rundown:
Hazards
High risk of damaging winds and lightning. Potential for isolated tornadoes, hail, and locally heavy rain. Prior to the arrival of the storm, winds with gusts up to mph should be expected across the area thought the day.
Timing
The line should approach our west around Sealy from between 12-5pm. The line will move east from there and is expected to impact Houston between 4-9pm. See graphic below from NWS for more detail.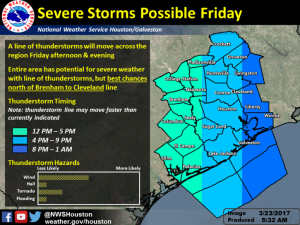 The timing could impact drive time across the Houston Metro area. Stay tuned to local media for the latest details. Check the weather before leaving to head home this afternoon.
Current Radar